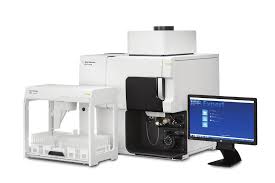 Concord Analytical Services Limited is accredited for Metals in Air Analysis by ICP. This analysis is sometimes known as Welding Fume or Heavy Metal analysis. The sample is collected onto filter media which we then digest into a solution and analyze by our ICP instrument. You can read more about the method we follow by clicking this link: Metals in Air Analysis by ICP method. Inductively Coupled Plasma (ICP) Spectrometry is a well established method to determine the concentrations of various metals in solutions.
Our state of the art dual view Agilent 5110 ICP-OES offers uncompromised speed, precision and performance.
We offer 5-7 business day Turnaround Times while providing industry best rates! Inquire within for a quote and save your company money by using our accredited laboratory!

Metals in Air by ICP Analysis
*Rush Service Available! 24 or 48 hour Rush Service is a service we offer for our Metals in Air by ICP analysis.
The standard package of elements by ICP includes:
Ag, Al, As, Ba, Be, Ca, Cd, Co, Cr, Cu, Fe, Mg, Mn, Ni, P, Pb, S, Sb, Se, Sn, Ti, V, Zn.
Extra elements can be added upon request.
Our metal scan by ICP follows NIOSH 7300 or NIOSH 7301 method. Our well established analytical procedure has been tested using a wide variety of materials.
CASL has been a member of the Canadian Association for Laboratory Accreditation (CALA) since 1997 and has participated since that time with excellent results in proficiency testing by CALA for Metals on Air Filters and High Range Metals in Water. CASL laboratory has been found to comply with criteria and standards established by the Association.
Note: Bulks samples are analyzed using the same digestion method.

Elements by ICP
Elements by ICP
Elements by ICP
CASL laboratory is accredited by CALA in accordance with the recognised International Standard
ISO/IEC 17025:2017. This accreditation demonstrates technical competence for a defined scope and the operation of a laboratory quality management system (refer joint ISO-ILAC-IAF Communiqué dated January 2009 www.ilac.org)